Doctor to Congressman: You Want Ebola Travel Ban, U.S. Military Will Have Step up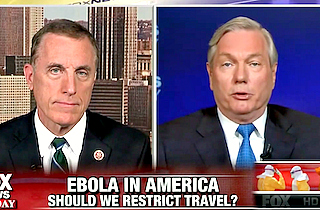 Epidemiologist Michael Olsterholm explained to Representative Tim Murphy (R-PA) on Fox News Sunday this morning why a travel ban was a terrible idea, and intimated that certain lawmakers who wanted to implement one might also consider appropriating measures to correct for the restrictions it would cause in fighting the virus in Africa.
"We really don't effectively stop people from getting into this country [via a travel ban] — and for what?" Olsterholm said. "We've had one single case is so far, in the big picture. Maybe we stop another one or two more. But we do know that travel bans will seriously impact or ability to get people in and out of that area."
RELATED: Sen. Cruz: Doctors Opposing Travel Ban 'Working for Obama'
Murphy said that the argument that a travel ban would prevent goods and supplies from reaching affected west African nations, where the virus originated, was nonsense, as the U.S. could clearly get goods and supplies wherever it wanted, as shown by the Berlin airlift.
Oltershold was, shall we say, less than impressed by this rebuttal.
"Congressman, I agree on the Berlin airlift. But that was all military. If you're prepared to give us hundreds of military plane that will fly in and out at will when we need them to move not only material but also people, maybe I'll reconsider this. But I don't see anybody in Congress telling us today we'll get hundreds of military planes."
Watch the clip below, via Fox News:
[h/t ThinkProgress]
[Image via screengrab]
——
>> Follow Evan McMurry (@evanmcmurry) on Twitter
Have a tip we should know? tips@mediaite.com