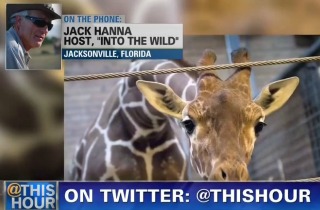 A Denmark zoo sparked controversy when they recently killed a healthy giraffe and fed that animal's carcass to a pride of zoo lions. With the news breaking that another Denmark zoo is contemplating killing another healthy male giraffe to make room for a new female giraffe and prevent inbreeding, the public outcry is growing louder.
Appearing on CNN on Thursday, famed naturalist and zookeeper Jack Hanna revealed that he was asked by a friend if Denmark could accurately be considered the "Hitler of the zoo world." While Hanna said that this was a horrible comparison to make, he could not say that it was entirely inaccurate.
RELATED: Jack Hanna Condemns 'Grotesque' Giraffe Killing, Denmark Zoo Getting Death Threats
Hanna told CNN anchor John Berman that he raised over $15,000 to transport the latest giraffe threatened with euthanasia to the United States. He added that he could house as many as 30 giraffes in order to save them from premature deaths.
"Let me tell you something not pleasant for you to hear," Hanna said. "A guy sitting with me yesterday, he said, 'Mr. Hanna,' – I did not say this – 'is this the Hitler of the zoo world in Europe — not Europe, but in this country? Is that what this is?'"
"I said, 'My gosh, That's terrible,' what he said," Hanna added. "I said, 'I don't know. I can't believe what they're doing with perfectly – animals that are perfectly good.'"
Watch the segment below via CNN:
[Photo via screen grab ]
— —
> >Follow Noah Rothman (@NoahCRothman) on Twitter
Have a tip we should know? tips@mediaite.com