Shep Smith's highly-anticipated Fox News Deck made its debut today, showing off a USS Enterprise-like news studio with social media savvy and high-tech gloss. One of the key features of Shepard Smith Reporting, however, could "make you sick," at least according to Fox's own CEO Roger Ailes circa 2005.
In an August '05 interview with TV Week, Ailes took a shot at CNN's new show The Situation Room with Wolf Blitzer, warning that TV audiences will not be moved by those gigantic moving video walls:
"What they've decided is they're not getting the ratings with their programming, so they've decided to get the ratings with their walls. In other words, just program the walls-and by the way, if I were Wolf, who is a very nice guy and a very good journalist, I would be deeply suspicious of them having me spend half of my time with my back to camera."
In fact, Ailes said, those walls might make TV viewers nauseated, perhaps to a degree where they want to vomit:
"It's like going to one of those Imax movies where you go out and you say, 'Wow, that was great,' and then you puke, because your stomach is upset from watching the walls move. It's not good. You actually don't want your walls to move that much. It's like a fundamental thing among humans. You'd sort of like your walls to be steady."
Oh, hey, speaking of moving walls: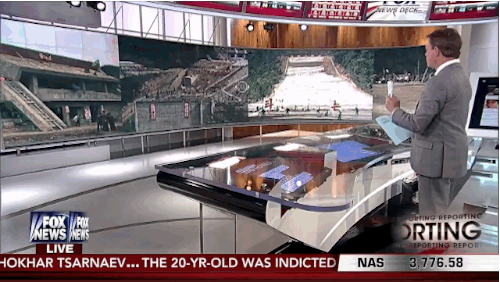 Goes to show how things change. Eight years can make a huge difference in cable news.
UPDATE: Despite everyone joking that the set looks like Star Trek, I think it's actually quite cool. And Smith seems positively enthralled about the new show. A refreshing breath of cable news air, perhaps.
— —
>> Follow Andrew Kirell (@AndrewKirell) on Twitter
Have a tip we should know? tips@mediaite.com