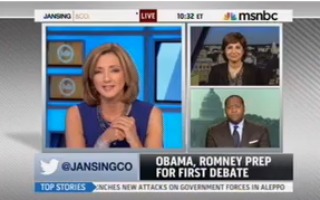 On Friday, Jansing & Co. host Chris Jansing wondered about the role a sense of humor might play in the upcoming debate between Mitt Romney and Barack Obama.
She played a clip of one of Ronald Reagan's more memorable jokes, as mentioned in a recent Politico piece advising Romney to whip out some zingers and one-liners of his own when facing off against the President. In fact, here's what Roger Simon wrote in his Politico column, "Mitt Romney: King of Comedy:"
His best humorous moments probably came on March 20, 2005 at a St. Patrick's Day breakfast in Boston, a tape of which was unearthed by BuzzFeed.

"When I was a boy, I used to think that becoming rich and becoming famous would make me happy," Romney said. "Boy, was I right!"

According to UPI, Romney also said that he was against same-sex marriage because as a Mormon, he believed "marriage should be between a man and a woman and a woman and a woman."

You have to admit, those are genuinely funny lines, and self-deprecating humor can be very effective.

But that was five-and-a-half years ago, and today, Romney has become more guarded, more cautious.
Jansing then had an unintended funny moment of her own when she repeatedly referred to her guests as "Perry" because she'd been looking at her notes… which mentioned former presidential candidate Rick Perry. Former Bush-Cheney adviser and non-Perry Robert Traynham agreed with the Politico piece, adding that voters already know that both candidates are smart, but now want to find out whether they like either of these men on a personal level.
Jansing then pointed out that Romney had a "testy" moment with Perry during one of their primary debates, and wondered whether the Obama campaign might try to push Romney's buttons and essentially manufacture a similarly uncomfortable moment when the two meet to debate.
"I think that the President should really consider this an opportunity to talk with the american people about how, you know, his vision of leadership," replied former Obama adviser Neera Tanden. "Talk directly about his policies, you know, his strategies to move the country forward. I don't think he should get — my own advice is he shouldn't get into getting under romney's skin or having a back and forth, etc. This is a serious, serious discussion that people are looking for. And I don't think he has to — you know, I don't think the onus is on him. It's on Governor Romney. When Governor Romney has a joke or a zinger, it's also how President Obama addresses it and how he deals with it. And he has an advantage, which is people already like him. They already are sympathetic to him. they're kind of often rooting for him. And so I think he really needs to take the debate very seriously as a way to discuss what he means — what it means to move this country forward. But he shouldn't get into the games of it and the zingers and the back and forth. He doesn't want to be mean, either. So I think he should just take this as an opportunity to talk about his policies."
Have a look, via NBC:
Have a tip we should know? tips@mediaite.com