Dolezal's Parents React to Her Stepping Down, Hope She 'Embraces Her True Identity'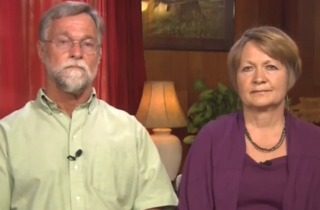 Rachel Dolezal became the center of media attention last week after the NAACP leader came under investigation for fraudulently identifying herself as an African-American woman. Larry and Ruthanne Dolezal, Rachel's parents, previously gave an interview with CNN where they talked about Rachel's estrangement from the family, and their own confusion on their daughter's behavior.
MSNBC's Thomas Roberts interviewed the Dolezal parents on Monday to get their reaction to earlier reports that Rachel was stepping down from her position. Larry said that both of them supported supported Rachel's decision, but when asked about a follow-up statement where Rachel said that "I don't give two sh*ts," Ruthanne said that Rachel's behavior is "still very painful."
"I noticed in her letter of resignation, there was no actual addressing of the issue of being dishonest about her ethnicity, nor was there any apology," Ruthanne said. "I pray that she will take the steps necessary to embrace her true personal identity, and not feel compelled any longer to be false or malicious towards her family."
Following Larry explaining that their motivation for the interview was a chance for honesty, Roberts asked Ruthanne about whether it was okay of Rachel to identify as "transracial," having come from an adopted mixed-race family. He specifically asked whether being transracial was "even a thing" with respect to those who identify as transgender.
"I don't see any honest way that a person can describe themselves as transracial because your ethnicity comes from your genetic code and is handed down to you by your parents," Ruthanne said. "I think the healthy path to take on this kind of discussion is to find a way to embrace and celebrate who you are."
The Dolezal parents are schedule to give an interview on the Kelly File tonight.
You can watch the segment here:
[Image via Screengrab]
— —
>> Follow Ken Meyer (@KenMeyer91) on Twitter
Have a tip we should know? [email protected]