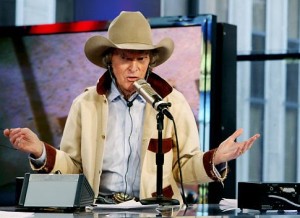 Just when you thought news stories related to Keith Olbermann's departure from MSNBC might die down, former MSNBC employee and current Fox Business Network host Don Imus took to the airwaves to attack Rachel Maddow for what Imus believed to be her failure to appropriately defend Olbermann or to appear publicly gracious for Olbermann giving her a career. His criticism was based on Maddow's appearance on Real Time with Bill Maher where she seemingly was caught off guard by the news, despite Imus alleging everyone at MSNBC knew it was only a matter of time before Olbermann was gone from the network.
Imus continued:
"Having nothing to do with her politics, she is a gutless coward and I'll tell you why. . . . For this woman, who owed her job to him – she's live there with Bill Maher, a lot of people watch that – terribly influential program – not to offer a defense of Olbermann, in spite of what you think about Olbermann, is unconscionable. . . . She's awful. She's the worst kind of coward and gutless, sniveling worm."
Describing his own ordeal of being fired from MSNBC and how much he appreciated Sean Hannity publicly defending him when seemingly they were even that friendly at the time, he could not even fathom how Maddow could have displayed indifference about the departure of her friend. With Piers Morgan also challenging Maddow today, she seems to be taking fire from all sides, which suggests she should have been even more grateful to Olbermann since he used to be one targeted with all such attention.
Watch the clip from Fox Business below:

Have a tip we should know? [email protected]