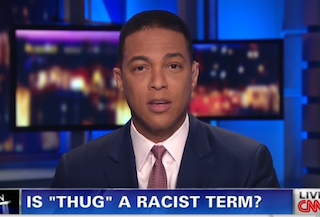 Is the word "thug" inherently racist? CNN's Don Lemon attempted to answer that question Friday evening in relation to a video of a black toddler swearing and flipping the bird that Omaha police released as a warning about "the thug cycle" in America.
Lemon has been facing criticism of his own since he clashed with commentator Marc Lamont Hill over the video Tuesday night. While Hill argued that it "sends the wrong message about young, black boys" for the police to release the video, Lemon countered that there was some value in drawing attention to the inappropriate behavior.
On Out Front Friday night, Lemon described how "personal" this story has become from him since he was first alerted to it earlier this week. Noting that the word "thug" has "been thrown around a lot this week," Lemon addressed critics who found it "racist" to use the term to describe an innocent two-year-old child.
While the word "thug" has been "co-opted" by the hip hop community in recent years, Lemon explained, it has been used by nearly every culture over the last hundred years. To prove his point, he played a montage of pop culture uses that included everything from Tyler Perry's Madea to Aaron Sorkin's The West Wing.
Even if the police officers' motives were "racist," Lemon said, "why not take the outrage you have behind that to actually use the energy for good to actually stop a detrimental cycle of any name?" He concluded, "If you don't want to be treated like a thug or be considered one, then don't act like one."
On Thursday, authorities in Nebraska took the two-year-old from the video into protective custody despite the fact that no discernible crime had been committed.
Watch video below, via CNN:
And watch the original video below, plus Lemon's debate with Hill below, via CNN:
[photo via screengrab]
— —
>> Follow Matt Wilstein (@TheMattWilstein) on Twitter
Have a tip we should know? tips@mediaite.com