Don Lemon at Michael Brown Funeral: This Should Be More than 'Media Spectacle'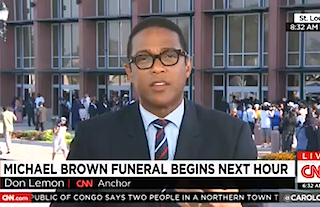 More than any other cable news figure, CNN's Don Lemon has been closely associated with the Ferguson protests since shortly after Michael Brown was killed just over two weeks ago. But during his live coverage of Brown's funeral Monday, Lemon invoked some feeling of irony by saying he hopes Brown's death turns into "something other than just a media spectacle."
In previewing the funeral, of which CNN is offering up live coverage all day today, Lemon said more than 4,000 people were expected to show up, including celebrities like Spike Lee and P. Diddy. He then spoke to two local community leaders from the Ferguson area about the shooting and its effects.
"I'm glad that so many people are coming to show their love and support," activist Kevin Powell said. "But I also think, again, we've got to talk about how do we heal and how do we bring people together and how do we turn this tragedy into a positive."
RELATED: Don Lemon to Mediaite: I Didn't Feel Unsafe in Ferguson 'Until Last Night'
Echoing those sentiments, Lemon said, "It's important, what you're saying now, that this turns into something other than just a media spectacle." Taking a page from Trayvon Martin's mother Sybrina Fulton, he added, "This should be for family and people who knew [Michael Brown]. Those people didn't know him. They come for a day or a week, they get in the camera spotlight. They take part in the moment. Then when the cameras go away, they're gone, as well."
While he will continue to report live from Ferguson on Monday, Lemon did take a step back out of the spotlight in one other way. He tweeted this morning that he will be taking a break from his usually voracious Twitter habit today out of respect for Brown's family. The message was accompanied by a photo of him embracing Brown's mother, Lesley McSpadden.
Taking break from twitter today in respect for parents & lives lost. Not choosing sides. Just being human. #Ferguson pic.twitter.com/uReLnQApAP

— Don Lemon (@donlemon) August 25, 2014
Watch video below, via CNN:
[Photo via screengrab]
— —
>> Follow Matt Wilstein (@TheMattWilstein) on Twitter
Have a tip we should know? tips@mediaite.com