Don Lemon, Concha, Stelter Pick the 'Biggest Implosion' of 2013: Deen, Weiner, or Rob Ford?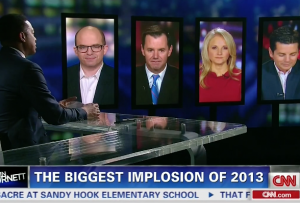 In one of many end-of-year look-backs this week, CNN's Don Lemon brought on a panel to debate what was the absolute biggest implosion of 2013 in what can charitably be described as an incredibly playful segment. And, of course, the list included the big three: Paula Deen, Anthony Weiner, and the always-fun Rob Ford. So which took the top spot?
Before getting to the obvious picks, Mel Robbins went with a rather unconventional choice: the Supreme Court striking down the Defense of Marriage Act represented the implosion of LGBT discrimination in the United States this year. CNN senior media correspondent Brian Stelter went with Deen because of the absolute PR trainwreck that led to her fall from grace this year after admitting to using the n-word.
Mediaite columnist Joe Concha had to go with the crack-smoking elephant in the room: Rob Ford, a man with 99 problems but lacking enough pussy to eat at home ain't one. (Lemon admitted that moment was his absolute favorite Ford clip of all-time).
Finally, comedian Dean Obeidallah made the hard choice in Anthony Weiner, though Weiner didn't necessarily have a fall from grace so much as a fall from the ledge he grabbed on the way down after he fell from grace the first time.
Which is precisely why Lemon went with Paula Deen, because she was well-admired and quite powerful, and no one really had high hopes for the sext-addicted former congressman and the crazy, brash mayor of Toronto, Canada in the first place.
Watch the video below, via CNN:
[photo via screengrab]
— —
Follow Josh Feldman on Twitter: @feldmaniac
Have a tip we should know? tips@mediaite.com
Josh Feldman - Senior Editor