Don Lemon Grills Ferguson Police Chief: Are You Trying to 'Discredit' Michael Brown?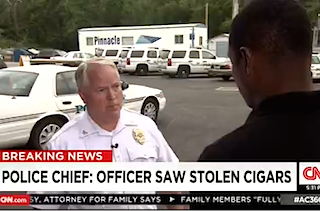 CNN's Don Lemon is one of many reporters on the ground in Ferguson, Missouri today and while he was there he got a chance to talk to Ferguson Police Chief Thomas Jackson about his decision to release both the name of the officer that shot and killed Michael Brown and the surveillance video of Brown allegedly stealing cigars from a convenience store.
Jackson insisted that his department "sat on" the surveillance video of Brown as long as they could, but once they started getting Freedom of Information Act requests from media outlets for its release, they decided they had to put it out. "I felt it would be prudent if I was releasing that, it could be inflammatory if I release that but didn't release the name of the officer," he said.
"Family members and not only family members but people in the community say you are trying to discredit him, trying to soil his reputation, trying divert attention to something else besides the actual shooting," Lemon said to Jackson. Quoting Brown's family statement, Lemon asked what Jackson thought of the charge that releasing the tape was "devious and you're assassinating the character of their son by releasing the video attempting to smear the character of the victim and essentially blaming the victim."
"That's absolutely not true," Jackson said, adding that his "heart goes out" to Brown's family.
While Jackson had initially said that the officer who shot Brown did not know he was a suspect in the robbery, he now suggested to Lemon that he may have seen the cigars on Brown's person after he stopped him and made the connection himself.
Ultimately, Jackson called the Brown shooting the "worst thing" he has seen in his career but said he plans to stay on in his role as police chief in order to "make sure we work through this."
Watch video below, via CNN:
[Photo via screengrab]
— —
>> Follow Matt Wilstein (@TheMattWilstein) on Twitter
Have a tip we should know? tips@mediaite.com