Don Lemon, Marc Lamont Hill Clash with Ben Ferguson over 'Ignorant' Nugent's Apology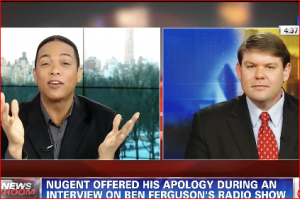 Ted Nugent's outlandish remarks about President Obama continue to ripple through the cable pond, particularly on CNN. On Saturday, Don Lemon kicked off a debate on the subject by admitting, "I am so sick of Ted Nugent." (Perhaps this might have to do with Nugent going after Lemon on Twitter Friday.) Lemon faced off with conservative radio host Ben Ferguson again today, after their previous bout on Friday, and Lemon continued to insist that Nugent's apology for calling President Obama a "sub-human mongrel" wasn't much of an apology at all.
Ferguson insisted that Nugent was truly sorry for what he said, while at the same time acknowledging that he's a "flame-thrower" who's prone to this kind of outlandish language. Lemon kept emphasizing how little he could care about Nugent and argued that in no way was his apology sincere.
"That's not an apology. An apology is 'I'm sorry,' and you stop there. You don't say 'I'm sorry, but' or 'I'm sorry for blah blah blah…' You just say sorry, and you don't go on with the caveat… you don't go on to insult the person even further."
RELATED: 'Give Me a Break!' Bernie Goldberg Whacks 'Despicable Hypocrisy' on the Right over Nugent
When Ferguson pushed back, Lemon cried, "You're making excuses for him!… You are making excuses for someone who is ignorant!" Marc Lamont Hill noted that saying "I should have just called you a liar" instead of a "sub-human mongrel" is not much of an apology to begin with, and said this is really all about Nugent helping out his Republican pals. However, Hill did have a message for liberals, saying "we demand apologies from people knowing they don't mean it" and the left should just stop that outright.
Watch the video below, via CNN:
[photo via screengrab]
— —
Follow Josh Feldman on Twitter: @feldmaniac
Have a tip we should know? tips@mediaite.com
Josh Feldman - Senior Editor