Don Lemon Takes on How I Met Your Mother 'Yellowface' Dust-Up: 'People Are So Sensitive Nowadays'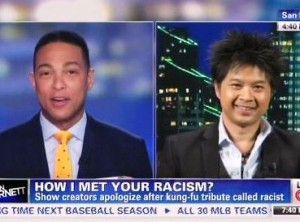 On this week's episode of How I Met Your Mother, Jason Segel's character tells a ridiculous, over-the-top story about how he visited various martial arts trainers to learn a comically exaggerated slap. The weird kung fu movie parody was supplemented by appearances of three different trainers, all played by the show's main cast members, doing Asian versions of themselves without being too stereotypical about it. That being said, plenty of Asian-Americans were outraged and some accused the show of anti-Asian racism, with #HowIMetYourRacism trending on Twitter.
The creators of the show officially apologized for offending people, but Thursday night, CNN's Don Lemon wondered if that apology was even necessary. He spoke with Asian comedian Dat Phan, who didn't see anything offensive about the HIMYM episode.
Phan remarked how years ago, there used to be far more offensive material on television, but people weren't as bothered by it. Lemon agreed, saying "people are so sensitive nowadays," and cited a classic Saturday Night Live bit in which Chevy Chase threw out the n-word to Richard Pryor.
Phan argued that it would have been one thing if Josh Radnor, Cobie Smulders, and Alyson Hannigan had adopted thick Asian accents or squinted their eyes or ate dogs or something, because that at least would have been legitimate cause for outrage, but they played the roles relatively straight so he didn't really see a big problem with it.
Watch the video below, via CNN:
[photo via screengrab]
— —
Follow Josh Feldman on Twitter: @feldmaniac
Have a tip we should know? tips@mediaite.com
Josh Feldman - Senior Editor