Don Lemon Talks to Mediaite About CNN's March on Washington: 'This Shows Us the Fight'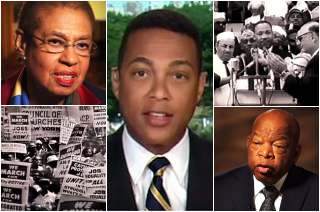 On the occasion of the fiftieth anniversary of the March on Washington, CNN will premiere We Were There: The March on Washington this Friday night. The film, an oral history of those who organized the epochal demonstration for equal rights, is hosted by CNN anchor Don Lemon, who talked to Mediaite about the heroes of the March and the need to ballast their accomplishments.
"This March showed people, first of all, look at how many people showed up, just how many African Americans there were in the country," Lemon said of the 250,000 attendees that day. "Without African Americans, there would be no America. It also helped them realize African Americans weren't going anywhere. I think you had to accept it. I hate to say it was an idea whose time had come, but the time had come for America to recognize its own people."
The documentary covers the notable figures—Martin Luther King, Jr., the most legendary, and John Lewis, the last of the surviving speakers—and bandies some clutch historical trivia, like the organizer who counseled King not to give his "I Have a Dream" speech because he found it hokey.
But the film reserves most of its attention for the less lionized figures, chief among them Bayard Rustin, whom Lemon called the "architect of the March." Rustin, a gay black man and tireless civil rights advocate, buzzes about the film, as he seemed to be everywhere in the summer of 1963. One attendee recalled Rustin standing on the deserted Mall the morning of the March, fending off reporters who doubted anybody would actually show up. Rustin took out his watch, consulted a sheet of paper, and informed the gentlemen "everything was going according to hoyle." The page was blank, but Rustin had successfully bluffed the media until the caravans of church buses began to arrive.
"Bayard Rustin, in this documentary, finally gets his due," Lemon said. "We show him to be the giant of the civil rights movement that he was."
It wasn't easy. In an attempt to discredit the event, Strom Thurmond outed Rustin on the Senate floor just days before the March—an effort that proved unsuccessful. "People saw that Strom Thurmond had some ulterior motives, that he was using to try to overshadow the March," Lemon said. "It was transparent."
"I think that says a lot about the movement for gay rights," Lemon added. "It's interesting that there was a gay man at the forefront of the civil rights movement. I think that should give them some hope and inspiration to continue on their fight."
The most touching presence in the film, though, is Patricia Worthy, who frantically answered the phones for the organization as it coordinated with churches, unions, and civil rights organizations. Her anecdotes—including Dr. King charging into the office demanding to know who had put him on hold, only to give the terrified woman a hug—are a warm mix of humor and pathos. Worthy was so exhausted by the day of the March that she lay down on the lawn of the Mall to rest her eyes for a moment and slept through the whole thing. (Worthy is now a professor at Howard University.)
Looming like a lion over the film is John Lewis, the youngest of the speakers that day, and now a U.S. congressman. Lemon interviewed the civil rights titan, and recalled Lewis' comments on the commitment that made such an event, and such a movement, possible:
"He said, 'I want young people to have the passion that we used to have. I don't see that passion in young people. They don't know their history. They don't take pride in their history and themselves.' He said, 'Don, I wore a three piece suit, to marches, to sit ins, to protests, even in the teeth of the most terrifying odds. And the least of things that could happen was that I could be beaten or go to jail. I wore a suit so that I could have dignity when I went to jail.' And he feels that young people don't have that awareness."
Lemon hopes this film will remind them of the toil that went into achieving civil rights, and the necessity of guarding them. "This shows us the fight," he said, "how people risked their lives to sit at lunch counters, work at places where I'm working, vote, and continue to vote."
We Were There: The March on Washington – An Oral History will debut Friday night at 10 p.m. Watch the trailer below, via CNN:
————
>> Follow Evan McMurry (@evanmcmurry) on Twitter
Images via CNN
Have a tip we should know? tips@mediaite.com