Donald Trump Agrees With Rush Limbaugh: 'The Private Sector Is Being Destroyed'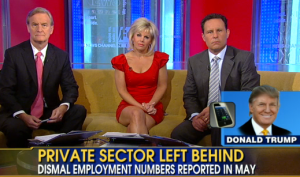 Continuing with his weekly call-in segment on Fox & Friends, this morning Donald Trump took President Obama to task on the economy and for allowing China and India to take our jobs. Trump called Obama's stimulus package a "tremendous waste of money" and agreed with Rush Limbaugh regarding how serious the economic situation truly is.
Rush warned his listeners, "the President of the United States is winning his war against the private sector, he is destroying it." Although Trump didn't go as far as saying it was Obama's mission to dismantle the private sector, like Rush suggested, he did conclude "the private sector is being destroyed whether anybody likes it or not. I mean the fact is Rush is right, the job picture is horrible." The main problem, according to Trump, is that today we've had the opposite of the industrial revolution in America in that this country no longer makes anything.
Finally, responding to news that Rick Santorum is officially running for President, Trump attempted to be uncharacteristically quiet on whether Santorum could win:
"Well I don't want to be a wise guy so I'm not going to comment on that. I want to be very nice – I'm becoming more and more, as I study politics I become more and more diplomatic. So I will not have any comment. He seems like a very nice guy. I honestly don't know him."
Although it seems Trump's reluctance to just say "yes" to the question of whether Santorum could win is enough of a clue to let us know what Trump really thinks of him.
Watch the clip from Fox News below:

Have a tip we should know? tips@mediaite.com