Donald Trump, 'Are You Proud' of White Children Who Harass Children of Color?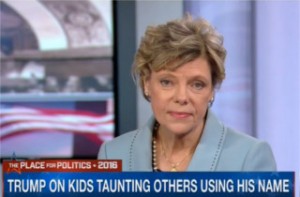 Speaking to Donald Trump on Morning Joe Wednesday, NPR's Cokie Roberts demanded to know if the GOP frontrunner was "proud" of the reports of white children harassing and taunting their darker skinned peers, citing Trump's incendiary nativist rhetoric.
Trump responded that it was a "nasty" question, that he was unaware of any such reports, and furthermore, that he was going to "make America great again."
Roberts challenged Trump: "There have been incidents of children, white children, pointing to their darker skinned classmates and saying, 'You'll be deported when Donald Trump is president.' There have been incidents of white kids at basketball games holding up signs to teams which have hispanic kids on them saying, "We're going to build a wall to keep you out.' Are you proud of that? Is that something you've done in American political and social discourse that you're proud of?"
"Well, I think your question is a very nasty question," Trump responded. "And I'm not proud of it because I didn't even hear of it. Okay? And I don't like it at all when I hear about it."
Roberts remarked that the reports had appeared in many newspapers.
Over Trump's interruptions, Roberts pressed him: "When you talk about deporting people and talk about building a wall and banning muslims… Does it have an affect on the whole discourse? …What about the effect on children?"
Trump retorted that "people are responding very positively" to his message because "the messages are very positive. You know, 'Make America Great Again' is a very positive message. Not a negative message." The candidate segued into his familiar stump speech, refusing to respond to her "nasty" query.
Have a tip we should know? tips@mediaite.com