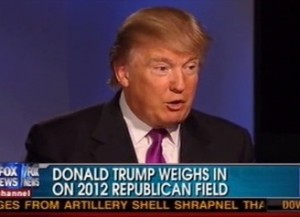 It's a well-known fact that Donald Trump has all of the self-awareness of a Commodore Vic-20, but sometimes, he manages to outdo himself. Such was the case today, when the Apprentice host and former Muammar Gaddafi landlord trivialized President Obama's decision to take out Osama bin Laden, asking Fox News' Megyn Kelly, "Who is not going to make that decision?"
RELATED: Donald Trump Piles It On: Now Claims He Gave Gaddafi Tent Rent Money To Charity
Set aside, for the moment, that Donald Trump, when faced with a terrorist who had attacked the US, made the decision to rent him some property (a deal that was scuttled by local officials, not by Trump, as he claimed).
Set aside the fact that the answer to Trump's question is quite simple: the Bush administration, who had Osama bin Laden cornered at Tora Bora in 2001, but decided not to pull the trigger.
What's really incredible about Trump's second-guessing here is that he seems to have completely forgotten President Obama's complete humiliation of Trump at the White House Correspondents Dinner, even as the operation to kill bin Laden was underway. Here's a little reminder of the types of decisions that Donald Trump is qualified to opine on. With Trump seated in the audience, here's what President Obama said:
For example — no, seriously, just recently, in an episode of Celebrity Apprentice — (laughter) — at the steakhouse, the men's cooking team cooking did not impress the judges from Omaha Steaks. And there was a lot of blame to go around. But you, Mr. Trump, recognized that the real problem was a lack of leadership. And so ultimately, you didn't blame Lil' Jon or Meatloaf. (Laughter.) You fired Gary Busey. (Laughter.) And these are the kind of decisions that would keep me up at night. (Laughter and applause.) Well handled, sir. (Laughter.) Well handled.
RELATED: Obama's Trump Joke Comes to Life: bin Laden News Preempts Celebrity Apprentice
Under President Obama's leadership, the United States hunted Osama bin Laden down and killed him, and whether Trump likes it or not, succeeded where the Bush administration failed (and also played a major role in the demise of would-be Trump tenant Gaddafi). No one is trying to rob Trump of his due in the firing of Gary Busey. If only he could find it in his heart to be similarly gracious.
Here's the clip, from Fox News:
Have a tip we should know? tips@mediaite.com