Donald Trump Hits Back: Charles Krauthammer, George Will And Karl Rove Are 'Political Hacks'
Trump Hits Back: Krauthammer, George Will And Karl Rove Are 'Political Hacks'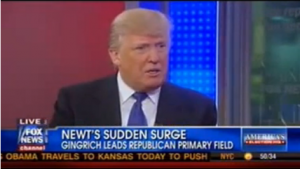 Man of the moment Donald Trump sat down with the folks at Fox & Friends Tuesday morning to discuss his recent meeting with GOP presidential hopeful – and early RSVP to this month Trump-moderated debate – Newt Gingrich.
"He's like a rocket ship. What can you say?" observed Trump, referring to Gingrich's rise to the top of the polls. "The way he's going up, I've never seen anything like it."
RELATED: Karl Rove Has Had It With The Donald Trump Debate: 'This Is Not A Newsman'
Trump said he and Gingrich discussed China, OPEC and "what other countries are doing to our country" for about an hour and fifteen minutes. He says he got the feeling that Gingrich was seeking an endorsement from him because the business man and TV host "represents millions of people" in the U.S. The show's hosts showed Trump a recent Fox News poll showing that only 6 percent of viewers would be more likely to vote for a candidate he endorses, with 62 percent saying they wouldn't care at all.
Trump then ripped into those criticizing his role in the GOP election, calling candidate Jon Huntsman – who has made it clear that he does not appreciate Trump's "manipulation" of the campaign process and will not be participating in his debate – sore because his "ratings are low" and referring to Charles Krauthammer, George Will and Karl Rove "political hacks."
He then echoed the defense he's been giving since his moderating gig was first announced: "We will get, probably, the highest ratings of any debate that they've had because of this controversy."
He added that he doesn't like Rove, but, rather, people who don't have an agenda.
Have a look, via Fox News:
Have a tip we should know? [email protected]