Donald Trump Demands Obama Campaign Pay For Bus Tour: 'It's A Fundraising Tour'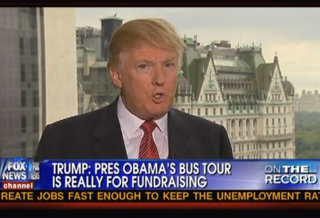 Add Donald Trump to the list of people that seem to have doubts about President Obama's national tour. Speaking from his office with Greta van Susteren today, Trump argued that the President takes "more vacations than any human being I've ever seen" and that his "fundraising tour" should not fall into the hands of taxpayers, citing a lack of leadership on his part.
Trump and Van Susteren went through a long list of topics– from China and OPEC to Sarah Palin and Rep. Michele Bachmann— but began with the President's tour. The August vacation, separately, Trump argued "sends a very, very bad message," but shrugged that President Obama "likes vacation" and won't be stopped from taking one. He then turned to the actual tour, which he believed was part of his campaigning and not something the President was doing in his executive capacity. "Why isn't his campaign paying for this, he argued," noting that he was traveling on a bus and "the most expensive airplane you can fly" on the Taxpayers' dime. He gave President Obama one compliment: "he's a good campaigner– not a great campaigner, but a good campaigner."
Van Susteren then turned to foreign policy, where Trump railed that the United States "were like patsies… the world is taking advantage of the United States" and cited the worst abuser as China, though added Colombia and a number of other countries to that list. He also had some words about Palin and Rep. Bachmann; asked to compare the two, he declined, but argued they were similar in the challenges they faced as conservative women. He also said he liked them both very much, had no idea whether Palin was running (the "famous pizza incident" did nothing to help him figure that out, he explained), and had yet to pick a candidate in the Republican race.
The segment via Fox News below:

Have a tip we should know? tips@mediaite.com