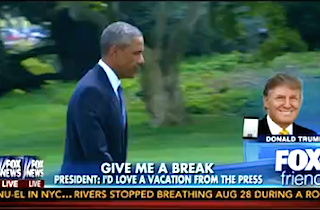 If anyone's an expert on optics, it's Donald Trump. Right?
That's what Fox & Friends was evidently thinking Monday morning when they asked the real estate mogul to weigh in on President Barack Obama's comments to Chuck Todd on Meet the Press Sunday about his decision to play golf immediately following a press conference on the beheaded American journalist James Foley.
"There's no doubt that after having talked to the families, where it was hard for me to hold back tears listening to the pain that they were going through, after the statement that I made, I should have anticipated the optics. That's part of the job," Obama told Todd. "I think everybody who knows me, including the press, understands that you take this stuff in. But part of this job is also the theater. It's not something that always comes naturally to me. But it matters, and I'm mindful of that."
Here's what Trump had to say about that (emphasis added):
"Well, he says part of the job is theater. I think part of the job is competence and frankly, he's blaming the media. He's blaming all of you in the media for his going out and playing golf. Look, nobody likes and respects golf more than I do. I think golf is a great thing and a great game. But there is a time and there is a place for everything. An american reporter had his head chopped off and he's on the fairway 15 minutes later after his news announcement. He couldn't get his clothing off fast enough to put on a golf outfit. Usually he doesn't wear a tie anyway. I'm not even sure he was wearing a tie then. The whole thing is just ridiculous. Look, we have somebody — it's almost like he doesn't want the position. He's got it. He likes campaigning, and that's about it. He sort of likes campaigning. I'm not sure he likes anything. But we have a president that really doesn't seem to want to be there."
For the record, the president was not wearing a tie during his press conference about the killing of James Foley on Martha's Vineyard. But at least his suit was not — gasp — tan.
Watch video below, via Fox News:
[Photo via screengrab]
— —
>> Follow Matt Wilstein (@TheMattWilstein) on Twitter
Have a tip we should know? tips@mediaite.com