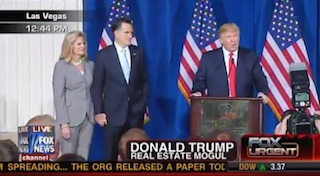 Well, it happened. Donald Trump, a man who once (seriously) was the GOP front runner, has endorsed the current front runner, Mitt Romney. Romney was on hand to accept the endorsement and it wasn't…uh…entirely the most uncomfortable thing we've watched all week.
RELATED: Shep Smith Compares A Trump Endorsement To That Of 'Shakira And Big Bird'
Seriously. For the entirety of Trump's short speech, Romney held the hand of his wife in a death grip. He looked less like a candidate receiving an important endorsement from an influential peer and more like a child desperately clinging to his mom while being forced to meet a scary looking neighbor. You can imagine what Ann Romney was saying right before the cameras rolled:
"Come on, Mitt. Mr. Trump just wants to tell you how big you've grown!…I'm sorry, Don. He's usually so friendly. I think he's just tired."
I think BuzzFeed's Ben Smith summed up the atmosphere the most succinctly: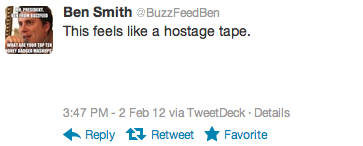 But that's not all. Shepard Smith, who had already made it abundantly clear how ridiculous he thought this was by comparing a Trump endorsement to one from Big Bird, continued to report on the whole situation with sarcasm so thick it probably fogged up the Fox News cameras. He celebrated the affair by banging on a bell and holding up a flashing red light marked "Breaking News," a description made with tongue planted firmly enough in cheek that it passed through, circled his body, and hit his other cheek during its travels.
Think I'm overusing the colorful imagery and hyperbole? Just watch the clip and see if I'm exaggerating.
And, to make matters worse, Smith took his time during Romney's follow up speech to fact check Trump's words and instantly began pointing out the errors in the magnate's numbers.
Just to reiterate in case anyone's forgotten, this was the way people treated the endorsement from a guy who used to LEAD THE GOP POLLS.
Watch the clip below from Fox News:
Have a tip we should know? tips@mediaite.com