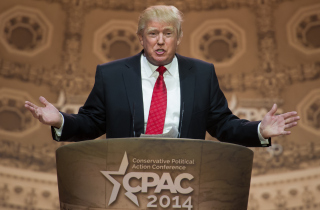 During the March 26th edition of Fox's On the Record, Donald Trump called President Obama's comments about concerns over a nuke in Manhattan "absolutely the dumbest — I guess I have to say one– but maybe I can say the single dumbest statement I have ever heard a president make."
Of course, The Donald had probably just returned from his high-rise laboratory where he gauges stupidity based on the rate at which his fingers gravitate toward Greta Van Susteren's contact information. Sigh, it's hard to argue with science.
But let's give it the old college try. Here are some presidential quotes that out-dumb President Obama's attempt to articulate his genuine fears concerning homeland security:
"The crotch, down where your nuts hang, is always a little too tight." – Lyndon Johnson in a White House recording.
"I'm President of the United States, and I'm not going to eat anymore broccoli." – George H. W. Bush, begging SNL's Dana Carvey to combine his talents.
"That depends on what the meaning of 'is' is." – Bill Clinton role-playing as Descartes before the Grand Jury.
Of course, dumb comments aren't just silly, as Trump implies. How about quotes with grave and aloof implications:
"Brownie, you're doing a heck of a job." – George W. Bush to FEMA administrator Michael D. Brown.
"Blessed are the young, for they shall inherit the national debt." – Herbert Hoover in an address to the Nebraska Republican congress.
"When the President does it, that means that it is not illegal." – Richard Nixon in a 1977 interview with David Frost.
Now, Trump made no distinction between countries either, saying "I don't mean just the president of this country." There really only needs to be one example here (with apologies to Chávez and Putin):
"I am still the Hitler of the time." – Zimbabwean President Robert Mugabe at a state funeral.
Hmmm, let's finish off this experiment with American business moguls, shall we? Ah, what luck, we only need one for this too:
"I have been right about almost everything." – Donald Trump on the March 26th edition of Fox's On the Record.
— —
>> Clark Young is, above all things, a Mainer and Red Sox fan. Follow him on Twitter here.
Have a tip we should know? tips@mediaite.com