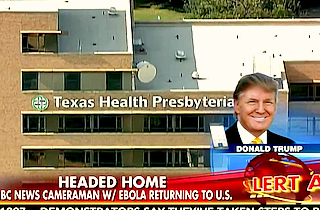 Following on the heels of a Reliable Sources segment excoriating Fox News for its hyperbolic and fear-based ebola coverage, Fox & Friends hosted medical analyst Donald Trump, who dismissed the infectious disease specialists the network itself had spoken to and instead promoted his own ebola theories Monday morning.
Trump insisted that travelers were being allowed to leave west Africa "without being checked," though Dr. Anthony Fauci of the National Institute of Allergy and Infectious Diseases explicitly refuted that point on Fox News Sunday the day before. The F&F troika also played a clip of Dr. Fauci explaining the dangers of isolating countries in the midst of a health epidemic.
"Now do you change your tune after that?" Steve Doocy asked.
"I think it's ridiculous," Trump said, before going off on his theory that ebola might be more contagious than the CDC is letting on. "It's interesting, I watch all the time where this gentleman from CDC is saying you don't catch it, you can't catch it, it's almost like impossible to catch. Yet an NBC photographer goes over there and gets ebola. I'm trying to find out how did he get it? What did he do to get it? I can't imagine he was touching lots of folks. That's what he was over there for. So that's going to be an interesting one. How did this gentleman catch ebola?"
This has been your evidence-based ebola coverage of the morning. Check back at noon for more.
Watch the clip below, via Fox News:
[Image via screengrab]
——
>> Follow Evan McMurry (@evanmcmurry) on Twitter
Have a tip we should know? tips@mediaite.com