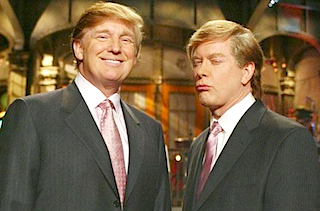 This week, we learned which Saturday Night Live cast member will have the honor of playing Donald Trump when the show returns for its 41st season on October 3. Instead of keeping Darrell Hammond around or pulling a Tina Fey-as-Sarah Palin and bringing in ringer Jimmy Fallon, the part will go to Taran Killam, who has previously portrayed John Boehner, Matthew McConaughey, Tom Brady and others. But will Trump himself make a cameo on the show?
During an appearance on CNN's New Day this morning, the GOP frontrunner dropped some hints that an SNL appearance could well be in the works already. After telling host Alisyn Camerota that he looks forward to seeing Killam's impression and hopes he "does a good job," Trump clammed up when asked about any invites he has received from Lorne Michaels:
CAMEROTA: Has SNL asked you to go on this season? Would you consider it?

TRUMP: I'm not allowed to say that.

CAMEROTA: Oh, really, why is that?

TRUMP: Because I'm not allowed to say that.

CAMEROTA: Because you're in negotiations with them?

TRUMP: Well, I'm just not allowed to say it. I mean, I have — silencio. I can't speak about it.

CAMEROTA: Silencio.

TRUMP: Which, perhaps, you understand what that means.

CAMEROTA: I believe I am reading you loud and clear.
Watch video below, via CNN:
So, yes, Donald Trump is almost certainly going to appear on SNL this season, likely during next weekend's premiere. Before he was a real-life presidential candidate, Trump hosted the show in 2004, appearing side-by-side with Hammond much in the same way he did with Fallon earlier this month.
[Photo via screengrab]
— —
>> Follow Matt Wilstein (@TheMattWilstein) on Twitter
Have a tip we should know? tips@mediaite.com