Donald Trump: If I Were House Speaker, 'Obama Would Have Folded' On Fiscal Cliff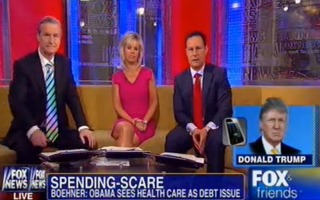 Real estate mogul Donald Trump joined the hosts of Fox & Friends on Monday to severely chastise Republican legislators in Washington for what he described as their capitulation in negotiations with Democrats and President Barack Obama over a resolution to the fiscal cliff. He said that the GOP could have made Obama fold if they stuck to their position advocating for either a "big deal" or "no deal." Now, Trump says, Republicans are "being eaten alive" by Democrats.

RELATED: Trump Tweets His Outrage On Fiscal Cliff: 'Republicans May Be The Worst Negotiators In History!'
Trump admonished Republicans in Congress for not putting a deal together which maximized their leverage. "Obama would have folded," Trump said.
He said that the president and Congress could have had a comprehensive solution to the fiscal cliff crisis that would not have set up several new fights for the coming months.
Trump expressed frustration with House Minority Leader Nancy Pelosi (D-CA) who now claims that Democrats will seek even higher tax increases as part of future deals to cut spending. "They're toying with the Republicans," Trump said. He said that the Congressional Republicans may be "the worst negotiators I've ever seen."
"I would have made one deal – it would have been a big, beautiful deal – and the country could go back to work," said Trump, if he were the Speaker of the House.
When co-host Brian Kilmeade took the opportunity to refresh Trump on the leverage that President Obama had in the fiscal cliff negotiations – and the political pitfalls that Republicans faced if they went into 2013 without a deal – Trump dismissed it.
"They're not forced to vote for anything," said Trump of House Republicans. "If they would have said, 'we're either going to have the big deal, the grand deal, the deal that everybody wants to see, or we're not going to have any deal at all,' absolutely, 100 percent, they would have gotten it."
"Now the Republicans are being eaten alive, step by step," Trump concluded.
Watch the clip below via Fox News Channel:
> >Follow Noah Rothman (@Noah_C_Rothman) on Twitter
Have a tip we should know? tips@mediaite.com