Trump Is 'No Fan' Of Obama, But 'Arrogant' S&P Had 'No Reason' For Downgrade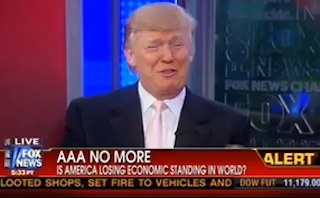 Donald Trump wants to be clear: he is obviously "no fan" of President Obama, and "what's happening in this country is terrible." That said, he seems to hold the Credit Ratings companies in lower regard than the White House, particularly in light the recent credit downgrade made by the S&P. "These are arrogant guys," Trump told the hosts of Fox and Friends, adding "they had no reason to do what they did." Trump then responded to Governor Mike Huckabee's unironic plea for Trump to replace an embattled Tim Geithner as Treasury Secretary.
Trump's stated frustration with the ratings agencies is the next bit of evidence in an emerging trend: bipartisan frustration and anger with the S&P for unnecessarily inserting themselves into he political realm of the current economic state by downgrading the federal credit rating after the debt ceiling was raised last week, particularly after they (and other ratings companies) completely missed the sub-mortgage financial crisis of three years ago.
Trump then went hit many of the same banal and predictable notes he's hit in the past — bringing on smarter business players into the administration's economic team, playing tougher for China, etc. — before addressing the Huckabees' statement that Trump should replace Geithner. The fact that Fox and Friends's co-hosts took such a recommendation at face value and Trump addressed that comment without laughing at its core absurdity, is perhaps the best evidence to date of just how disconnected from reality is the hyper-partisan opinion-based programming like this show.
Watch below, courtesy of Fox News:
Have a tip we should know? tips@mediaite.com