Donald Trump Keeps Feud With Lawrence O'Donnell Alive With Fairly Tame Hate Mail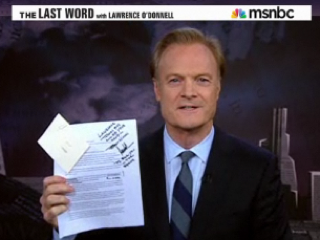 If there is one potential silver lining to the disgusting Rep. Anthony Weiner story, it's that it has kept Donald Trump moderately distant from the headlines. With that winding down just a bit, Trump is back, taking the time to address a number of annotated press notes to his greatest cable news nemesis, Lawrence O'Donnell, who was pleasantly surprised after all his attacks that Trump refuses to say anything truly hateful to him.
O'Donnell's trainwreck fascination with Trump was reignited by Trump's latest flirtation with an independent run for president, which he called "Donald's latest joke." O'Donnell had to laugh at the fact that "the poor man is trying to convince me of that," with a letter simply stating "thanks for all your words, see you in the spring." The note was accompanied by a series of articles with hand-written notes on them, underlining his favorite sentences, like "Trump is no clown." "That's positive press for him," O'Donnell joked. The most amazing thing to O'Donnell, however, was that Trump, "famous for writing very nasty, very very hateful letters," had refrained from insults. Of all his critics, O'Donnell noted, "I am the only such critic who has never been attacked by Donald Trump. His revenge mechanism simply doesn't work with me."
O'Donnell didn't attribute it to fear but, rather, to the fact that "I'm right about everything I say about him and he wisely does not want to draw any more attention to someone who has him all figured out."
With that in mind, O'Donnell went on to analyze Trump's latest statement that the money being offered to him to continue The Apprentice was irresistible. This, he noted, was an admission that he didn't have the money he claimed to have. "There is no billionaire," he argued, "who looks at a TV job and thinks 'it's time to take the TV money." As for the claim that "nobody" walks away from hit shows, O'Donnell shot that down with a list of people who had, from Jerry Seinfeld to Shelley Long to Johnny Carson.
The segment via MSNBC below:
Have a tip we should know? tips@mediaite.com