Donald Trump Likens Obama's Second Book To 'Chicken Sh*t' In Tea Party Speech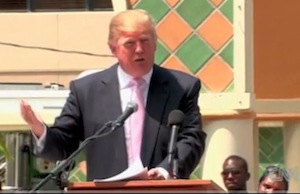 Sounding more and more like a presidential candidate, Donald Trump delivered a fiery speech to Tea Party supporters in Boca Raton, Florida this Saturday. Trump hit the usual anti-Obama notes like "worst president ever" and birth certificate legitimacy, before opening a new flank in his attack on the sitting president: authorship of his first book. Trump suggested that Obama's first book Dreams From My Father was written by William Ayers before comparing his second, Audacity Of Hope to "chicken sh*t."
CNN reports:
As he touted his business bona fides, Trump mentioned how his wife urged him against being "conceited." And while claiming there were huge writing differences between Obama's first book, "Dreams From My Father", and the second, "The Audacity of Hope," Trump used profanity to say they could not have both been written by Obama.

"The man that wrote the second book … didn't write the first book," Trump said. "The difference was like chicken salad and chicken (expletive)."
Trump claims that he knows a lot about books because of his previous success in selling books that he has written and suggests that Obama's first book was written by "Ernest Hemingway-plus." The second book, in Trump's esteem, was written by a high school graduate. Judging by the reaction of the crowd, the Tea Party supporters seemed to really appreciate Trump's astute analysis of Obama's books and were likely thrilled to get a free book review in addition to traditional political rhetoric.
Watch edited video of Trump's speech courtesy of CNN:
Have a tip we should know? tips@mediaite.com