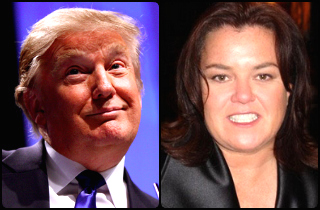 It's been seven long years but it looks like Donald Trump and Rosie O'Donnell may be ready to call it quits on their feud.
In a new interview with People, O'Donnell referred to the very public and very mean back-and-forth between the two, saying it was "the most bullying I ever experienced in my life, including as a child."
Trump saw the interview and tweeted out a link to it. "No offense," he said in a tweet to O'Donnell that accompanied the interview link. "And good luck on the new show, but remember, you started it!"
It started in 2006 when O'Donnell, during her first tour as a co-host of ABC's The View, mocked the Trump-owned Miss USA beauty pageant as well as his financial history, calling him a "snake-oil salesman."
Trump returned fire, threatening to sue O'Donnell, saying he'd "like to take some money out of her fat-ass pockets." He also called her an "unattractive woman."
O'Donnell has publicly admitted to struggling with obesity.
When it was announced by ABC that O'Donnell would be returning as a co-host on The View, Trump called her "crude, rude, obnoxious and dumb."
It seems, though, that Trump is ready to put the past behind him.
We asked O'Donnell if she's ready to do the same and will update if she responds.
Trump's tweet below:
.@Rosie—No offense, and good luck on the new show, but remember, you started it! http://t.co/Ag3TyZZxOh

— Donald J. Trump (@realDonaldTrump) September 25, 2014
[Photos via Wikimedia Commons/Gage Skidmore]
— —
>> Follow Eddie Scarry (@eScarry) on Twitter
Have a tip we should know? tips@mediaite.com