Donald Trump Mocks Harry Reid's Blindness Injury and His 'Rubber Work-Out Pieces'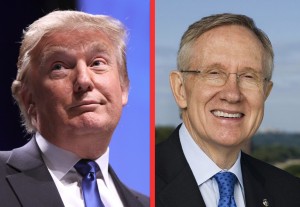 It's safe to say that Senate Minority Leader Harry Reid of Nevada is not exactly a fan of Donald Trump's. Yesterday on the Senate floor, the 76-year-out outgoing senator slammed the Republican nominee for President as a "con artist," and a "spoiled brat."
Tell is how you really feel, Senator.
"Trump won't change. He is asking us to let him get rich scamming America," continued Reid, who announced last year that he would not be seeking reelection in 2016 after over 30 years in Congress. "I know these are harsh words, but look at this man," he continued.
"Trump is a human leech who will bleed the country and sit at his golf resort laughing," he added for good measure. Perhaps most devastating to the personal ego of Trump, Reid asserted that Trump was "not slim and trim," after releasing some of his medical records this week.
Well, it was only a matter of time until the man himself fought back, and late Thursday night The Washington Post released an interview with the GOP nominee. According to WaPo's Robert Costa, "Trump grimaced and waved his hand dismissively," at the invocation of the Democratic senator's name.
Then, he offered this wonderful little ditty: "Harry Reid? I think he should go back and start working out again with his rubber work-out pieces."
On New Year's Day of 2015, the then-75-year-old Reid suffered a brutal injury as a result of an exercise band mishap. "I was doing exercises that I've been doing for many years with those large rubber bands and one of them broke and spun me around and I crashed into these cabinets and injured my eye," he said at the time. Reid has largely suffered blindness in his right eye ever since.
[h/t Washington Post]
[image via Gage Skidmore/Flickr]
Have a tip we should know? tips@mediaite.com