Donald Trump On Dennis Rodman's Message That Kim Jong-un Wants Obama To Call: 'Not Such A Bad Idea'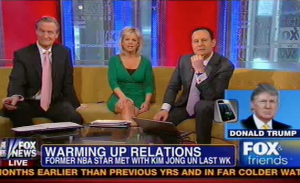 Former basketball star Dennis Rodman has made headlines after his controversial trip to North Korea, during which he apparently exchanged words with Kim Jong-un. He's been the subject of mockery particularly after relaying the message that the "supreme leader" (ahem, dictator) simply wants President Obama to call him. On Monday, Donald Trump chimed in…
…during his weekly appearance on Fox & Friends, of course. And he doesn't think it's the worst idea.
Incredulous, Gretchen Carlson asked Trump, "Are we supposed to think Dennis Rodman is our ambassador to finding a solution in North Korea?"
"It's probably better than what we have," Trump replied, observing that the world appears to be "blowing up around us." Rodman, who is also on the current all-star season of Trump's Celebrity Apprentice, is "a lot better than what we have."
Asked if it's all an act, Trump "sharp and smart" Rodman, adding that he's "not a stupid guy." And about that call from the president? "I think maybe that is not the worst thing, folks," Trump asserted. "Instead of going through this whole charade we do every year with these people. Maybe it's not the worst thing that somebody actually calls."
"Because you look at this world, this world is blowing up around us," he repeated. "We are doing nothing. You know, maybe it's not such a bad idea. Not a very big deal to make a phone call."
So. For those of eagerly awaiting Trump's take: There you have it.
Watch below, via Fox News:

Have a tip we should know? tips@mediaite.com