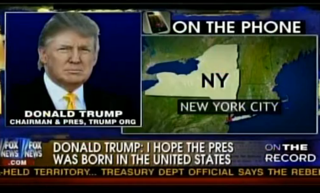 Excepting, maybe, Barack Obama, Donald Trump took the crown today as the most ubiquitous cable news personality of the night, appearing both on CNN and Fox News to comment on President Obama's Libya speech. But while he kept his comments somewhat mainstream for CNN, he continued to pursue the birther issue on On the Record, going out of his way to call birthers "great Americans" and once again demand a long-form birth certificate.
Trump recently put his money where his mouth is and released some sort of certificate that says he was born (it is disputed whether it is an actual birth certificate), promping host Greta Van Susteren to note how much trouble Trump had been stirring. "He doesn't have it," Trump once again noted, "he has spent millions of dollars on lawyers." He also noted that "no doctor, no nurse has come forward to say 'I delivered that beautiful baby.'" Trump also denied that the matter had anything to do with race, noting that his "friend" Whoopi Goldberg was wrong to make it a race issue.
Continuing the argument, he noted that he knew "both poor people and rich people" and the practice of announcing a birth in a newspaper seemed odd to him. He also denounced the term "birther" as "terrible," and called most birthers "great Americans" for insisting on accountability from their President. Trump made it clear he isn't backing down and is certainly not afraid of the controversy.
The segment via Fox News below:

Have a tip we should know? tips@mediaite.com