Donald Trump: Park51 Imam 'Using Religion' To Get A Better Price On Property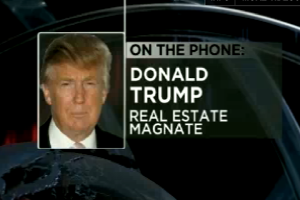 Given the nature of this debate, someone should have anticipated that Donald Trump would at some point become a major player, lobbing suspicions of ulterior motives at the Imam running the project. That moment is now here, and it's pretty safe to say that at this point the "Ground Zero Mosque Show" has jumped the shark.
Trump spoke with CNN's Anderson Cooper yesterday about the progress at the former World Trade Center site and his recent proposal to buy the space where the Park51 Islamic community center is in development at a higher price, in order to end what he called a "highly divisive situation." Despite sharp words from the group developing the project that Trump was out for publicity, he says the offer still stands and that he would gladly lose some income to help alleviate the problem.
Trump is very suspicious of why his offer isn't being accepted, however. Noting that, in talking to the powers-that-be at the center, they told him that "the people [they] bought it from were stupid" and that they got a fair price and were getting higher offers than Trump's, he suspected that the group was "holding out" for more money. "I believe that he is using this building as a way to sell it for a lot of money, and he is using religion as a way to get a better price and I don't like it," he told Cooper.
He also expressed his frustration with the Ground Zero project– both the choice of architecture meant to be placed there and how slowly development is moving. There's a lot of incompetence involved," he stressed, "a lot of incompetence, gross incompetence."
His interview on CNN below:

Have a tip we should know? tips@mediaite.com