Donald Trump Phones in to Fox News to Bash 'Disaster City' Brussels in Wake of Deadly Attack
While there is still so much information unknown about the deadly Belgium attacks that have claimed the lives of at least 30 people, Fox News hosted a phone-in interview with Republican frontrunner Donald Trump. The focus of his remarks seemed to be on how far the city of Brussels has fallen, as emergency first responders continue the effort after blasts rocked an airport and subway station there Tuesday.
"I've been talking about this for a long time. Brussels was a beautiful place," Trump said to Fox's Steve Doocy, Ainsley Earhardt, and Brian Kilmeade. He continued, "Zero crime, and now it's a disaster city. It's a total disaster and we have to be very careful… as to who we allow into this country."
"We have to be very, very vigilant as to who we allowed into this country." –@realDonaldTrumphttps://t.co/yvcrcQNNgS

— FOX & Friends (@foxandfriends) March 22, 2016
Minutes before, the Republican frontrunner — who is looking to capitalize on his lead in the delegate race with voting conventions in Utah and Arizona later today — took to Twitter to share his sentiments. The original Tweet seems to have been deleted after Trump misspelled the word "was":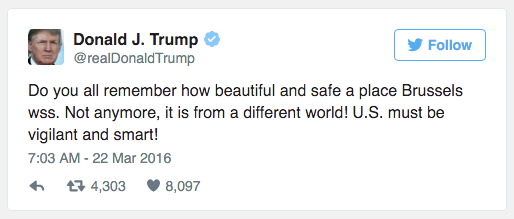 "It's going to get worse and worse. It's already happening big-league in Paris," Trump to the Fox & Friends hosting trio. "They're not assimilating well into other countries," he continued, discussing migrants who have moved in recent years to European countries like Belgium.
The NBC Today Show is also scheduled to speak with Trump over the phone Tuesday morning to discuss the attacks.
Have a tip we should know? tips@mediaite.com