Donald Trump Floats Rudy Giuliani-Led 'Commission' to Study 'Problem' with Allowing Muslims In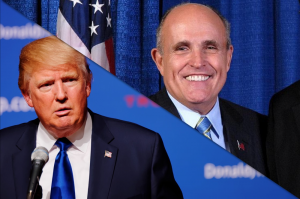 During his daily regular somewhat not-too-often appearance on Fox News's Fox & Friends Wednesday morning, the presumptive nominee for the Republican party revealed a potential role for former New York City mayor Rudy Giuliani.
While the conversation during the phone-in interview shifted towards the infamous "temporary" ban on Muslims entering the United States, Donald Trump reiterated the gravity of the situation. "We have a problem. Now, if you don't want to discuss the problem, then we're never going to solve the problem," the nominee said.
He then continued, invoking the name of Giuliani, who served as mayor of the Big Apple during the 9/11 terror attacks:
We have a president that won't even use the term 'radical islamic terrorism.' He won't use the term. He refuses to say the term, even after Paris where 130 people were killed or San Bernardino or any other place…. It's a real problem. So we'll figure it out, and we will get it going. But we have to be extremely careful. In fact, I'm thinking about setting up a commission perhaps headed by Rudy Giuliani to take a very serious look at this problem. But this is a worldwide problem, and we have to be smart.
Speculation has swirled that the two Manhattanites would be teaming up in some capacity now that Trump's political ambitions have rapidly become realities on the campaign trail. The New York Daily News cited a GOP insider last week who noted that Giuliani would be on the short list for Homeland Security secretary.
—
J.D. Durkin (@jiveDurkey) is an editorial producer and columnist at Mediaite.
[images via Wikipedia Commons]
Have a tip we should know? tips@mediaite.com