Donald Trump Reviews His Day In The News: 'I'm A Ratings Machine," Gingrich Is A 'Rocket Ship'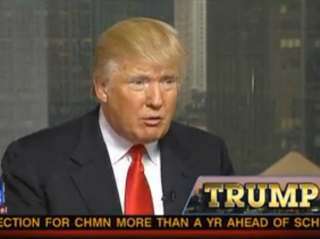 The sudden return of Donald Trump to the top of the news cycle has had him spending most of the day on television, yelling at Chuck Todd in the morning and planning to "apprentice" children with Newt Gingrich in the afternoon. He ended the day with Sean Hannity, discussing his meeting with Gingrich and shooting down critics arguing he should not be moderating a debate.
RELATED: Donald Trump Rips Into Chuck Todd On Air: 'You Have To Tell The Truth!'
Hannity began the debate by asking what he thought of the former Speaker during their meeting today. "He is a rocket ship," Trump replied, explaining that Gingrich had "started off so negatively" and that he believed "the press was very unfair… they took some words and make it like a big deal." Despite that, however, Gingrich had surged in the polls, and was well-poised to win the nomination.
Hannity then turned to the debate and his detractors. "I can understand that," Trump noted, because "I'm a ratings machine, according to everybody," and that another network getting those ratings should make people green with envy. As for the candidates opposing him, he noted that Rep. Ron Paul "has zero chance– zero– of getting elected or getting the nomination." He predicted that Rep. Paul would "do okay in Iowa and then fade into oblivion." "[Jon] Huntsman's another one!" he continued, noting that the candidate "called my office wanting a meeting," and is now campaigning on the fact that he did not meet with Trump. "He's a Mormon, so I'm sure he wouldn't lie about it," Trump concluded.
RELATED: Matt Lauer Challenges Trump Over GOP Debate: Will It Be 'All About Donald Trump?'
Trump also had some words of compassion for Herman Cain and the way he was treated, suggesting that "based on that, John Kennedy should not be President."
The segment via Fox News below:

Have a tip we should know? [email protected]