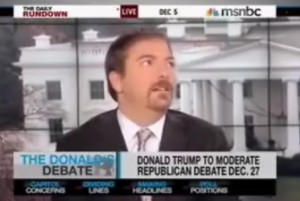 Donald Trump Day continues on Mediaite! Trump guested on The Daily Rundown with Chuck Todd this morning, and immediately called out Todd for lying after his introduction. Todd said that Trump was joining the show to respond to a Marist poll that revealed voters in New Hampshire and Iowa are less likely to vote for the candidate Trump endorses. Trump then attacked Todd, saying that he didn't call in to respond — producers had been calling him all morning (40 times, according to Trump) trying to get him on the show.
"I wish you would just sort of say it like it is," Trump told Todd. "I think you'd really do better. Honestly. I think you'd get better ratings if you did that." Trump later added that, "I'm doing MSNBC a favor by coming onto your show."
After his diatribe, Trump eventually got into the poll numbers anyway ("I studied polls at the Wharton School of Finance"), saying that the way questions are asked can influence the answers, before ripping into Todd again, saying he wished he would just "be straight."
"You've got to tell the truth, Chuck. Chuck, you have… to tell… the truth."
RELATED: Karl Rove Blasts Donald Trump, Says He's Trivializing The Election Process
The interview went on for another few minutes, as Todd alternated between what can best be described as exasperated and slightly annoyed as Trump went off on him. At one point, Todd said Trump had gone on Fox News this morning after Karl Rove made comments about him. Trump chided him again, saying that he was on before Rove. "Get your facts straight," Trump said, as Todd rolled his eyes on live television.
Watch the clip of the entire exchange below, courtesy of MSNBC:
Have a tip we should know? tips@mediaite.com