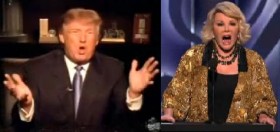 A few weeks ago, Comedy Central televised a roast of Joan Rivers, hosted by Kathy Griffin and featuring a whole host of foul-mouthed comics cracking jokes about Joan's various facelifts, how old she is, and how old her vagina is. One of those foul-mouthed comics was Donald Trump, a.k.a. her new boss after Rivers was victorious on last season's Celebrity Apprentice (with a newly-relevant invocation of Godwin's law, no less). I double-taked when The Donald came onscreen and started talking about his "greatest and most ambitious construction project yet: The Joan Rivers Facial & Body Restoration." I double-taked further when I heard what was coming out of his mouth. The Donald was saying that on TV? This video was going to blow up tomorrow! Alas, when I checked the Comedy Central website, The Donald — by far the biggest star on the bill, sorry, Brad Garrett — was nowhere to be seen. Comedy Central PR confirmed that the Trump vid would not be posted. We would just have to be satisfied with Greg Giraldo.
Or would we? Turns out Mediaite has obtained the video, and three weeks later it's still pretty damn funny, and shocking. Said Donald: "My trained eye tells me that since 1982 you've been condemned from the waist down – and like most dilapidated structures, you haven't been entered in decades!" And it only got worse from there. Viewer discretion advised!


>>>NEXT PAGE: Clips of Griffin, Rivers, Whitney Cumming, Carl Reiner, Jeffrey Ross, Nick Kroll and more!
Have a tip we should know? tips@mediaite.com