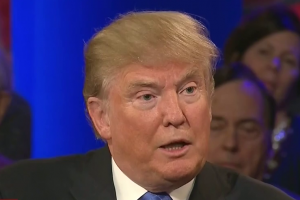 All politicians of all political stripes flip-flop at some point in their career. But Donald Trump may be the first politician to flip-flop only seconds after taking his initial position.
"In your opinion, what are the top three functions of the United States government?" a town hall participant asked Trump at Tuesday's CNN town hall.
"Well, the greatest function of all by far is security for our nation," he responded. "I would also say health care, I would also say education. I mean, there are many, many things, but I would say the top three are security, security, security."
Of course, most Republicans don't believe that education and healthcare should be run by the federal government. Since the original question referred to "the United States government," moderator Anderson Cooper rephrased the question to make it clear he was referring to the federal government.
COOPER: So in terms of federal government role, you're saying security, but you also say health care and education should be provided by the federal government?

TRUMP: Those are two of the things. Yeah, sure. I mean, there are obviously many things, housing, providing great neighborhoods…

COOPER: Aren't you against the federal government's involvement in education? Don't you want it to devolve to states?

TRUMP: I want it to go to states, yeah. Absolutely.
By Mediaite's calculation, only eleven seconds elapsed between the moment when Trump said he supported federal government providing education and when he said that he opposed federal government providing education. What's more, the flip-flop appears to have been prompted by Cooper remembering Trump's campaign platform when Trump did not.
When pressed further by Cooper, Trump clarified his stance. But his explanation was somewhat incoherent: "The federal government, but the concept of the country is the concept that we have to have education within the country, and we have to get rid of Common Core and it should be brought to the state level."
Watch above, via CNN.
[Image via screengrab]
——
>>Follow Alex Griswold (@HashtagGriswold) on Twitter
This is an opinion piece. The views expressed in this article are those of just the author.