Trump: Romney Should Promise To Release Tax Returns After Obama Releases College Records
Trump: Romney Should Release Tax Returns After Obama Releases College Records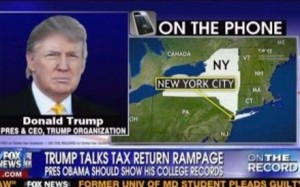 On Fox News tonight, Donald Trump reacted to the big controversy over Mitt Romney's tax returns and the bold claim made by Senator Harry Reid that Romney has not paid taxes in ten years. Trump suggested that Romney promise to release his tax returns when President Obama releases his college records, but got grilled by Greta Van Susteren over whether there is any point in looking at that part of the president's past.
RELATED: Trump Can't Fathom How 'Terrible Student' Obama Got Into Ivy League Schools
Trump doubted there was a source for Reid's remarks, and if there was, "ir's probably not even legal." He then advised Romney to state publicly that he will only release his tax records when Obama makes his college records public. Trump said that Obama has spent a lot of money trying to hide his records, and questioned what the president is trying to hide. He argued that most presidents have provided their college and passport records, but Obama has not.
When Van Susteren brought up the birther issue Trump had been peddling for a while, Trump said that he still not satisfied with the information provided to the public, though he claimed he's more concerned about jobs and rising unemployment. Van Susteren pressed Trump on exactly what he expects to find in Obama's college records. Trump said he hopes they are "100 percent okay," but finds it odd that Obama would spent 4 million dollars hiding his records.
Van Susteren challenged Trump on that figure, citing it and Reid's claim about Romney as examples of people being unable to provide credible information for their claims. She told Trump she was "perplexed" as to why anyone would care about the president's college records at this point in his life.
Watch the interview below, courtesy of Fox News:
—–
Follow Josh Feldman on Twitter: @feldmaniac
Have a tip we should know? tips@mediaite.com
Josh Feldman - Senior Editor