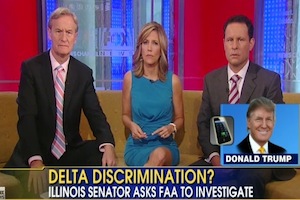 Donald Trump weighed in on the debt talks in Washington and told the Fox & Friends hosts that after listening to New Jersey Governor Chris Christie, Trump is convinced President Obama could learn a few lessons. Trump's advice to Obama: "you have to get in and just roll up your sleeves and do it yourself and maybe – really, absolutely stop campaigning for a little while."
Brian Kilmeade noted Obama's many fundraisers in the past month and how Obama played golf 72 times in two years. Trump agreed, saying "he's a doing a lot of campaigning." Yet in Trump's view Obama might eventually have to do a lot of it, because he argues, "I just don't see how [Obama] wins, if this economy stays bad and I think it will." Trump admits much federal spending must be cut, but unapologetically argues against trimming defense spending:
"We are despised throughout the world. We are a target for everybody and we're talking about cutting the military? We shouldn't be cutting the military, we should be building the military up."
And on a separate issue, Trump makes a somewhat less controversial argument suggesting that it makes no sense for the country to wait as Obamacare goes through all of these intermediary steps until it gets to its eventual destination at the Supreme Court. The sooner there is certainty on Obamacare, Trump argues, the sooner businesses will know how much money they have to invest and to help the economy.
Watch the clip from Fox News below:

Have a tip we should know? tips@mediaite.com