Donny Deutsch: 'I Would Be Very Surprised If This President Gets Re-Elected'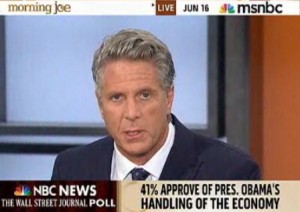 On Morning Joe, Donny Deutsch was very pessimistic about the nation's economic recovery and also about President's Obama's chances for re-election. Most on the panel agreed it will be challenging for the President as Joe Scarborough thought many are starting to get sick of Obama's "cool detachment" and Mike Barnicle stressed that most Americans out on the street are truly frightful in this economy.
Deutsch issued his warning to Obama:
"I'd be very surprised if this President gets re-elected. . . . I cannot see what's going to happen in the coming months – in the coming fifteen, sixteen months – what would make it better, not worse for him. And I think that pent-up emotion [of voters] versus his lack of emotion, that kind of chemistry I think is really going to act against him. Particularly when you look at three or four swing states. I don't see him getting re-elected."
Scarborough predicted the fact that Obama "seems cool and detached at a time when millions of Americans are hurting," might not hurt his rock star status, but will soon be a turn-off to more and more voters. And given this environment, Deutsch believes the "not scary" Mitt Romney has a perfect opportunity to grab the election, since when voters get in the booth they will likely think "what the heck," nothing is working now, so let's give Mitt a try. Not a truly passionate endorsement for Romney here, however, it's one he would no doubt welcome.
Watch the clip from MSNBC below:

Have a tip we should know? tips@mediaite.com