Donny Deutsch: No One Should Be Killed, But Occupy Wall St. Needs 'Kent St. Moment'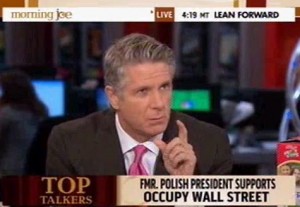 On Friday's Morning Joe, Donny Deutsch made a stirring observation about Occupy Wall Street, suggesting the movement needed a Kent State-like climactic moment. The provocative comment earned a deservedly derisive reaction from his hosts Joe Scarborough and Mika Brzezinski who chided and smacked Deutsch respectively.
The famous ad man and regular Morning Joe guest seemed to know that he was wading into dangerous territory when he said:
"You know what this movement needs? One is obvious one not so obvious. Everybody is saying they need to clarify. They need policy issues…The other thing it needs and I don't want this to come out the wrong way. Not needs but will happen. If you think back to the late '60s, what is the most stirring image of all of the rebellion that happened? What do we remember? Kent State. Now I'm not saying somebody has to get killed. What will happen, will there be a climax moment of class warfare somehow played out on screen that I think will, the same way 999 if you will kind of simplifies a message that articulates this clash so both the real clarification. We're a visual society."
Scarborough quickly clarified Deutsch's odd comment by adding "I would hope the police officers around our country understand it. There's a lot of great people out there but there's also some provocateurs who are going to try to get a police office to swing at him," adding "let's hope that doesn't happen." Clearly agitated, Brzezinski playfully smacked Deutsch following his comments.
Interestingly, when the segment re-aired in the 8:00AM hour, MSNBC –perhaps sensing the controversial nature of the discussion–edited out Scarborough's response and Brzezinski's reaction.
UPDATE: MSNBC tells Mediaite "there was nothing editorial about the edit, it was just for time and continuity."
Watch the segment below via MSNBC:

(
h/t The Blaze
)
Have a tip we should know? tips@mediaite.com