Donny Deutsch Rips Sen. Ayotte Over Gun Control: 'Maternal' Woman Opposing Bill 'Takes It To Another Level'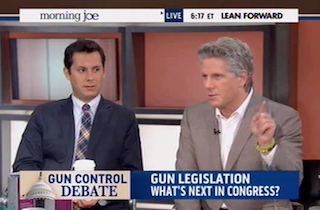 It should come as no surprise that Morning Joe got riled up over gun control today. In the absence of Joe Scarborough, Mika Brzezinski and Donny Deutsch took charge of the topic — specifically targeting Sen. Kelly Ayotte (R-NH), who recently was confronted again over her vote against expanded background checks. Ayotte's vote, Deutsch posited, may be "even more surprising" because she's a woman.
RELATED: Kelly Ayotte Dishonestly Evades Another Town Hall Question About Background Check Vote
Deutsch and Brzezinski agreed that there's no excuse for not passing a measure expanding background checks, with the latter lamenting that our country is "being like by a bunch of buffoons." Clearly, Sam Stein argued later in the segment, the motivation for politicians opposing the gun bill was not poll numbers, but rather, the prospect of facing a primary challenger.
As Brzezinski sought to air a larger portion of Ayotte's second town hall encounter, she asserted, "It's going to be painful. I think it's going to be painful, and it's going to be most painful for her. Because it just doesn't ring true — and the more she talks, the more she digs herself deeper, and I'm very sorry to see this happen, but it's too bad."
Deutsch jumped in at that point to ask question, with a disclaimer that he was trying to phrase it delicately. "Is it even more surprising to you when a woman goes against this?" he asked. "Just from a very primal — because there are differences […] When you see a woman — maternal, blah, blah, blah, blah, blah — it almost takes it to another level."
When women come to the negotiating table in Washington, Brzezinski replied, they don't take as many risks as men do. "So, yes," she continued, "I am surprised — for a completely different reason than you think — but there are female sensibilities that we bring to the table, which are valuable when it comes to leading our country, and we need more women, certainly in power and in Washington. I am stumped by Heidi Heitkamp or Kelly Ayotte or any man who voted no on this, just because it's not panning out well for them."
I am woman, hear me r—blah, blah, blah, blah, blah.
Watch below, via MSNBC:

Have a tip we should know? tips@mediaite.com