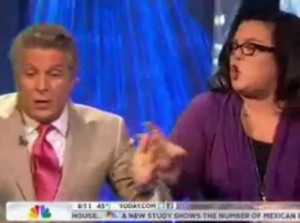 During a heated segment on the Secret Service sex scandal on NBC's Today Show, Rosie O'Donnell got into a full-contact-donnybrook with Donny Deutsch over whether having more women in the Secret Service would tamper down bad behavior. Panelist Star Jones started off the segment by noting that gender diversity "really does add to a company's bottom line… If you put that on the Secret Service, it makes more sense. If you put people of different backgrounds and experiences, especially gender, at the table when decisions are being made, you're not going to run into the same kinds of problems."
Deutsch butted in, disputing the notion that the Secret Service should hire more women, observing they were the weaker sex.
RELATED: MSNBC Panel Erupts When S.E. Cupp Says 'I Don't Want [Gender] Equality' Or 'Quota Mongering' In Secret Service
"Guys, we're forgetting one thing, what these people do for a living. They protect the President. I'm going to give you guys a news flash. There's a reason in the Olympics, women and men don't box together. Or they don't run together. Physically, physically, the big part of this job, is men are, I gotta say the word, superior."
"Superior–what!?" Jones interjected.
"Women are superior intellectually," Deutsch added.
Jones and O'Donnell both disagreed.
"I'm sorry, i just threw up on live TV!" said O'Donnell, latching upon Deutsch's arm. "Donnie! All you have to be able to do is take a bullet. A woman could take a bullet for the president."
"Guys, would you just –" Deutsch interrupted.
"Wait a second. we're talking about some people who were in Colombia, they're dog handlers, they're logistics people. They're looking at locations. These aren't people who are necessarily going to take a bullet," clarified moderator Matt Lauer.
Jones and O'Donnell both pointed out that the one person involved who did "do the right thing" happened to be a woman.
"That is a good point," Lauer said. "Paula Reed is getting a lot of credit. She's the head of the Miami field office because she found out about this and called this team home. But is that about her gender? Did she do the right thing because she's a woman or because she simply upheld her responsibility?"
"She's a competent employee who did her job," Jones replied.
"Well, I think because she's a woman," countered O'Donnell.
"Would a man have been less likely to do the right thing?" Lauer pressed.
"Yes, because there's a boys club situation. I don't think it's so shocking that men in power sometimes use prostitutes. Prostitution is legal where they were."
"I'm going to say it again, I think we want them on that wall. Guys, there's a reason that men fight wars. Women are superior intellectually superior. But, guys, let's not be so politically correct–" Deutsch argued.
"Women are fighting wars too, and why is it that men use the prostitutes and women don't?" O'Donnell hit back.
"They're idiots," conceded Deutsch.
"So do we want idiots protecting the President?" O'Donnell asked.
Watch the segment below via NBC:

Have a tip we should know? tips@mediaite.com