Donny Deutsch Unimpressed With Democrats' 'Draperizing' Of Romney: 'People Have A B.S. Detector'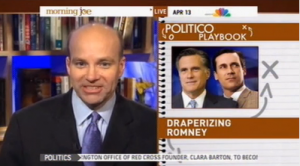 On Friday, Politico's Mike Allen told the Morning Joe crew about Democrats' attempts to "Draperize" Mitt Romney – referring, of course, to Don Draper, the quintessentially early-to-mid-60s antihero of AMC's Mad Men.
In "The Draperizing of Mitt Romney," Politico's Jonathan Martin and Maggie Haberman write the following:
RELATED: Marvelous: Did President Obama Play The 'Whiteguy' Card On Mitt Romney?
He may not drink or cheat, and he lacks the fictional ad-maker's charisma, but Democrats, despite the potential perils of such a strategy, remain determined to paint Romney as a throwback to the "Mad Men" era — a hopelessly retro figure who, on policy and in his personal life, is living in the past.

President Barack Obama has noted the presumptive GOP nominee uses archaic turns of phrase such as "marvelous" and warned in an email to donors Thursday that his rival would usher in "a social agenda from the 1950s."

The president's chief strategist, David Axelrod, has gone further, quipping that the former Massachusetts governor "must watch 'Mad Men' and think it's the evening news" while jabbing that Romney's views are out of a time when "bosses could dictate on women's health."
Allen characterized this as an effort to paint both Romney's "policies and his life story" as being "totally out of step with contemporary America."
Panelist Donny Deutsch wasn't exactly in love with the idea.
"Well, people have a B.S. detector," he said. "I mean, it's kind of silly. It's one thing you want to say he is out of touch. But to just kind of — as Mike's word "Draperize" him — is a little silly, I think… I think trickery doesn't work today. I think go after the guy for what he is, but that kind of media metaphor, I don't know if it holds water."
Have a look, via MSNBC:
Have a tip we should know? tips@mediaite.com