Don't Ask, Don't Tell? Anderson Cooper Asks Bachelorette How Many Contestants She Slept With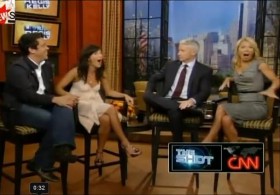 Anderson! There are just some things you don't ask a lady — like, say, asking "Bachelorette" Jillian Harris how many of the guys on the show she slept with.
While filling in for Regis Philbin on "Regis and Kelly" on Wednesday, Cooper and co-host Kelly Ripa interviewed Harris and her fiancé, Ed Swiderski, and started discussing some of the particulars of the ABC reality juggernaut. Ripa asked Ed how he felt about Jillian kissing other guys; he said "I don't know…at first I thought it was kind of weird, but it's like anything — you get used to it."
It was at this point that Cooper went in for the kill: "How many do you actually hook up with? Like, how many do you actually sleep with?" Shock, naturally, ensued; Ripa's face was rather priceless. Harris took it like a pro, though, deflecting by focusing on the less prurient elements: "I kissed 10 guys, but only four with tongue." Whatever, like that isn't an average blogger night out on the Lower East Side.
But anyway, we're not judging — Harris, that is. Cooper is another story — because it's one thing to ask such a question as a questing journalist in search of the truth, but another when you have famously refused to answer such questions yourself. Cooper makes a point of not discussing his personal life, whatever that may entail, even going so far as to pre-emptively prohibit interviewers from asking "personal questions," as Choire Sicha relayed in January (Sicha initially said that CNN made that a condition for granting interviews, but backtracked in an update, saying the network made its request but that he did not agree to any pre-conditions.) As HuffPo's Danny Shea pointed out at the time, others have called Cooper on his refusal to talk about his romantic life while holding forth about other aspects of his personal life.
Now, these are, if not apples and oranges, at least slightly different fruits in the fruitbasket:  Harris, as Cooper rightly pointed out, had "weeks of televised canoodling and lip-locking with a host of bachelors," so the subject was directly in play; Cooper is not on television based on similar canoodling. Even so, as Shea also pointed out, Cooper is less a staid just-the-facts newsman than a media celebrity, with one of the  more famous and cooed-over faces (and eyes, and dimples…) and certainly promoted as such by CNN. So – those fruits are maybe not so different after all.
Was Cooper just doing his job by, as Anderson Cooper 360 co-host Erica Hill pointed out, just asking what everyone wanted to know? Yes, but — people want to know lots of things. If Cooper has limits, then they ought to be fairly applied.
Anyway: You probably want to see the video. Here it is:
Have a tip we should know? tips@mediaite.com