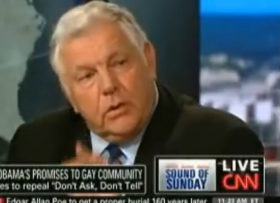 President Barack Obama reaffirmed his commitment — strongly — to repealing "Don't Ask, Don't Tell" last night at the 13th annual Human Rights Campaign dinner. Think that's worth some airtime today, in the wake of his Nobel Peace Prize and the ongoing tumoil in Afghanistan? CNN's Bill Bennett doesn't!
Today during a panel discussion on State of the Union, Bennett said that it was not "the most important thing to worry about" and evinced frustration that the matter was even being discussed at all. "If I were a serious general in Afghanistan, where we were losing 8 – 10 people a day, and I am asking for more troops, and I find the debate in Washington is about this, I might consider resigning my commission," Bennett said.
(NB: This logic is a little odd, since repealing DADT goes straight toward freeing up more people for service and preventing the discharge of qualified military personnel.)
Donna Brazile raised that point, shooting back: "But if your Arabic speakers, your linguists, your analysts, your military analysts, and intelligence officials are being kicked out simply because they're gay, that's also an issue as well." (An example of one of these people: Arabic-speaking linguist Lt. Dan Choi, discharged in March. Probably a useful guy to have around.)
But no, Bennett, clearly a scholar on the matter ( who remembers him being taken apart by Jon Stewart on gay marriage: "Divorce is not caused because 50% of marriages end in gayness"), nonetheless said he thinks "the priorities in Washington are wrong, they're just wrong," not to mention the priorities on the show for spending 25 minutes on the topic. Host John King was cheerful about the matter: "Mr. Bennett, thanks for spending too much time on this." I bet if Hilary Rosen had been on that panel, she'd have been a bit less cheerful. Video below, as well as that 2006 Daily Show interview, for kicks.
(Via PoliticsNewsPolitics on YouTube. H/T Roach Radio.)
Have a tip we should know? tips@mediaite.com