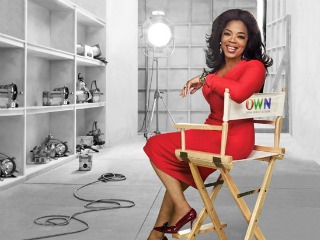 This morning on CBS, Oprah Winfrey offered a candid admission that, had she known how "difficult" launching her cable network OWN would be, she "might have done something else." Wow. No question, cable is a tough business and even the most successful media icon of our day, may not have appreciated just how tricky it can be. But there is still hope for OWN.
RELATED: Oprah On OWN: 'Had I Known That It Was This Difficult, I Might Have Done Something Else'
In many ways, cable is a lot tougher than network television because there is no built in audience — yes, not even for Oprah. Traditional broadcast networks still benefit from the huge numbers of people who stumble upon their (often highly-promoted) programs. On cable, particularly on the newer networks, viewers need a specific reason to watch, a hook and identity to lead them there in the first place, and then to return.
Oprah, maybe unlike anyone else on television, would seem to have the necessary ingredients. The problem is that one person can not support an entire cable channel, as OWN execs have recognized from the beginning.  An hour a day of Oprah is a very different proposition than a network with diverse programming "inspired" by her. And the compilation of programs just hasn't worked. The network inspired by the woman with a clear mission on her show every day has seen what she characterized as "mistakes" and ratings clouds obscure that mission. That, in turn, has lead to a lack of a clear and definable identity required for a successful cable channel.
In fact, OWN faces a similar set of problems to those we addressed in 2006 when I was running MSNBC: How do you create a unique identity that resonates in a crowded space? How do we create content distinct from what already exists? At MSNBC, we shifted from a variety of voices and genres of programs to a more direct focus on politics with "all politics days," and eventually landing where the network has thrived today as the liberal political voice in prime time. Love it or hate it, you know what MSNBC is and that has led to impressive growth and financial success for the network.
Cable, like content on the internet, often requires an unwavering focus on targeting niche, under served communities of people who can create a passionate base. At MSNBC, filling in the programming holes became easy once the network became focused (Including replacing my
schizophrenic show with Rachel Maddow!). OWN is elbowing for viewers the way we did at MSNBC, and the same way we did when launching Mediaite and our other web properties.
In the days after OWN launched, I was cautiously optimistic about its future. In a piece for Mediaite, I wrote the following:
OWN represents something different. It doesn't celebrate, nor even focus much on the superficiality that can often drive cable ratings. No, this is a place for real people of all shapes, sizes and colors to watch others achieve realistic goals… and maybe even learn from those achievements or failures. Oprah's world is not a Utopian one; it's often about hard knocks, but even more about how to get up after the punch. And most of the people on this network – in front of the camera, behind the scenes, and in the audience – appreciate that and seem ecstatic to be part of it. In fact, they make it feel like they wouldn't want to be anywhere else. If viewers feel that too, OWN could be a, well, Oprah-like success.
I also noted that the struggle would be whether Oprah's team "would be able to create 24 hours a day of programming – or even 8 hours of daily programming – that would distinctly and consistently resonate with the same target audience." Oprah's loyal viewers want to watch the woman, hear about her weaknesses, strengths and share in the vicissitudes of her life. They observe her mannerisms and sometimes even share her tears each day as Oprah talks to, empathizes with, and/or inspires her guests.
I thought that could translate into a fully programmed channel. While I felt some of the shows didn't work because "weary Americans have grown fatigued with the national sports of bickering and finger pointing. Many are now seeking out a safe place on television far removed from the partisan hectoring, staged altercations, and alcohol-induced 'hookups' that have come to dominate the airwaves. And advertisers are too."
I still believe that.
Oprah is an incomparable asset, but now it's time to expand beyond her old show to figure out what the cable world needs which also fits with her valuable brand. So rather than building from her show to a cable network, they need to consider the reverse and determine what is needed on cable and then try to work that into the Oprah brand.
It's time for OWN to make a bold choice and pick a poison:
Does it go for:
– All talk shows with female hosts? Maybe.
– Pursue all self-help shows? (I would argue "no" because the internet can provide most of this information).
– Go the direction of all female-focused reality shows with inspirational themes? (Probably not, since it seems these didn't really work the first time around).
– How about taking the best female oriented web sites and creating shows out of them? You could get the built in buzz and the outlets to re-purpose content and while they would still have to work together thematically, it could work.
– Is there a block of shows to do based on Pinterest, with its growing built-in audience?
– What about a crime network for women? Discovery ID (also owned by Discovery) is thriving with a heavily female audience, but Oprah also covered a lot of crime stories that impacted women.
The answers will require some detailed research and analysis, and executives all the way up to David Zaslav, the innovative and talented leader of Discovery, will have to decide which route to take.
The hardest part will be choosing just one.
Have a tip we should know? tips@mediaite.com