Don't Know Much About Voter ID: Matthews Exposes Ignorance About Laws 'Only Republicans' Pursue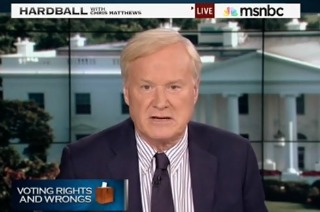 Chris Matthews, beating a familiar drum on Monday, attacked Republicans for aggressively pursuing voter identification laws at the state level. Matthews, in his predictably hyperbolic fashion, linked these laws to South African apartheid and added that only Republicans and conservative-dominated state legislatures have passed these laws. This is incorrect.

On Monday, Matthews told a guest that he believes voter identification laws suggest that American conservatives are emulating the experience of South Africa's dying white apartheid protectionists by instituting laws which subtly discriminate against minorities.
"It does look like it's almost like South Africa to this extent," Matthews said. "You have a white, what's the word, feeble minority — it's losing its majority status."
And it says, the Republican Party, we can only get so many white votes," he continued. "So we've got to reduce the votes of others. It does look that way."
"Maybe you're not partisan," Matthews continued, "but only republicans have pushed this in these 31 states. No democratic legislature."
"Look gotta at the pattern here — talk about profiling," he concluded. "I'm sorry, Republicans do this stuff." Matthews' guest, an expert on civil rights issues, laughed and agreed with this assessment.
He's partially correct. Many of the majority of American states which have passed some form of a law requiring identification to vote are dominated by Republicans. One would, however, certainly not accuse states like Hawaii, Ohio, Colorado, or Connecticut to be bastions of American conservatism.
But there is one state with a legislature dominated by Democrats (to the tune of 85 percent of the representatives) where a voter identification law was passed and signed by their then-independent, now-Democratic governor in 2011: Rhode Island.
"This year, poll workers will ask you to show a current and valid ID when you vote at your polling place," reads the statement on Rhode Island's Secretary of State's website. "Voter ID strengthens the public's faith in the integrity of our elections by enabling poll workers to match a voter's face to the name they give at the polls."
For the record, the state provides valid photo identification for all its residents – thought photo identification is not required at the polls (though "Beginning in 2014, only Photo IDs will be accepted at the polls").
"No eligible voter will be turned away at the polls. Voters who do not bring an acceptable ID to their polling place can vote using a standard Provisional Ballot," they add.
Finally, although absentee balloting is the most susceptible to fraud, "mail ballots do not require ID."
If this is the most pressing civil rights issue of our time…
Though Rhode Island's identification law does not vary widely from the laws passed in many states including Indiana, whose voter ID law was upheld by the Supreme Court of the United States as perfectly constitutional, many progressive commentators continue to insist that modern voter ID requirements are conservatives' preferred method of disenfranchising minorities. Tell it to Lincoln Chafee.
> >Follow Noah Rothman (@NoahCRothman) on Twitter
Have a tip we should know? tips@mediaite.com