'Don't You Feel Uncomfortable?': Blitzer Grills Conway On Trump Singling Out Katy Tur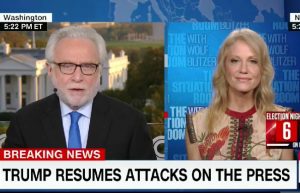 During an appearance on CNN today, Trump campaign manager Kellyanne Conway was challenged by host Wolf Blitzer over her candidate singling out NBC News' Katy Tur for criticism at a rally earlier today. Afterwards, Tur was harassed by a number of Trump supporters, leading to many on Twitter to rally around her with the #ImWithTur hashtag.
Blitzer played a clip of Trump calling out Tur during the rally, stating that the she wasn't going to rteport on the size of the crowd. Following the video, the CNN anchor pressed Conway to respond, pointing out that the last time they spoke she said she was going to have a conversation with Trump about "singling Out" reporters.
Conway noted that she did speak with the GOP candidate and that it was "very productive." She brought up the own harassment she's dealt with online and stated that the entire clip from the rally shows that Trump wasn't actually calling for anyone to be mean to Tur.
Wolf pressed back, asking her the following, "Don't you feel uncomfortable when he does that in front of all of those thousands?" He reiterated, "Doesn't that make you feel uncomfortable too?"
Conway answered by saying she'd urge their supporters "to be civil" and then pivoted to Hillary Clinton, saying that if Democratic nominee "is going to be in the gutter," Trump's campaign needs to be more "uplifting."
She finished by saying she had already talked to NBC.
Watch the exchange above, via CNN.
[image via screengrab]
–
Follow Justin Baragona on Twitter: @justinbaragona
Have a tip we should know? tips@mediaite.com